Frequently Asked Questions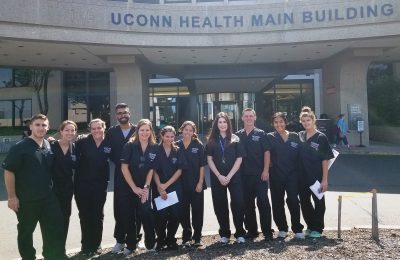 How long is the program?
The masters program is one full calendar year and the graduate certificate is 6 weeks long during the summer.
Is either program offered online?
Not at this time.
Are there Graduate Assistantships available?
No.
What is the difference between the Intraoperative Neuromonitoring Graduate Certificate and the Master's in Surgical Neurophysiology?
The difference between the Masters and Certificate program, besides a number of credits and duration, is that we do not provide clinical training for students in the certificate program.
If I complete the IONM Graduate Certificate can I move onto the Masters program?
Yes, you can transfer in the Graduate Certificate to the Masters program the following year.  For example: if you enroll in the Graduate Certificate in the Summer of 2019 you can apply for the Masters program in 2020.  After enrolling in the Graduate Certificate and depending on when you apply for the Masters program, your application fee may be waived.  Please see the Graduate School's waiver policy.
Can I transfer in credits to the Masters program?
Yes, students can transfer in up to 8 credits that have not been previously used to earn a degree.
What kind of academic background do these programs require?
Students need to hold Bachelor's degree in Biology, Physiology, Psychology, Neuroscience, Biomedical Engineering, or Health Related Sciences.
Am I guaranteed job placement?
Job placement depends on many factors including successful completion and satisfactory performance throughout the program's didactic, lab and hands on training, availability of positions at the time of graduation, the employment interview process and willingness to relocate at the time of graduation to name a few. However, our collaboration with one of the industry leaders in IONM, provides a great opportunity to be employed directly upon successful graduation from the program.
What if I currently work in the field, am I am able to use my current or past work experience to replace the clinical training?
No.  Students will need to complete all the academic and clinical training requirements as outlined.
I am an international student living in the U.S.; do you I need to take the TOEFL?
Please see the Graduate school TOEFL waiver requirements.