Masters of Surgical Neurophysiology
The new Master of Science in Surgical Neurophysiology is a one-year program that will provide students with a full IONM training experience, advanced coursework in Neurophysiology, and a full clinical practicum series with up to 100 surgical cases that will qualify students to take the board exam.
Over the course of the MS program, students will obtain comprehensive knowledge needed for IONM professionals. Students will gain an in-depth knowledge of Neuroanatomy and Neurophysiology in health and disease, and in acquiring and communicating neurophysiological data to a surgical team.
Students of the Surgical Neurophysiology Masters program will participate in neuromonitoring of surgical cases in the operating room setting in addition to coursework. The program will prepare students to perform duties of a neuromonitoring clinician.
After completion of 9 credits in the Clinical Practicum course (PNB 5104) and upon graduation, students will be eligible to participate in the national exam for Certification in Neurophysiologic Intraoperative Monitoring (CNIM Certification) conducted by the American Board of Registration of Electroencephalographic and Evoked Potential Technologists (ABRET).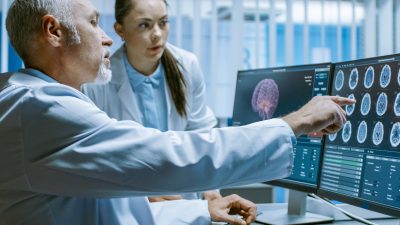 "Through this program, [...] I was trained in intraoperative neuromonitoring recording machines, writing protocols and using simulator programs that represent examples of signal acquisition in a laboratory setting.Through these courses, I know I am equipped with the skills and confidence to excel in such a stimulating and challenging field."  
Monique Mai, Summer 2017 Graduate