Incoming Students
Review the Graduate School's Incoming Student Checklist 
Complete your Background check and Drug Screen (Masters students only): Hospitals must have completed background checks and drug screen 30 days prior to starting clinical rotations (PNB 5104)

Questions? Reach out to Rachel Chasse-Terrebo of the Office of Clinical Placement Coordination or Dr. Andalib.

Register for your courses: Be on the lookout for correspondence from the graduate school to register for your courses.  Once matriculated you will be able to register for Summer courses and Fall courses (if applicable) at the same time.  Students will need to obtain permission numbers for courses 5101, 5012, 5103, 5104, 5105, and 5106.  Please email IONM@uconn.edu for these permission numbers.
Fee Bills: Students will receive notification from the Bursar's Office to your UConn email address once fees and tuition have been billed. Bills are generated soon after registration and can be viewed through the Student Administration System.   Failure to make payment on time will result in a late fee and a hold on your account that will prevent you from receiving other services.  For information about how to pay your bill, visit the bursar.
Set up housing: on campus housing or off campus housing. There is no guarantee that space will be available so applying early is encouraged. Summer move out dates may interfere with your course schedule. For more information on Summer housing move out dates please visit their website.  Please note: for students in the MSN program, your summer housing assignment will not be the same as your academic year housing assignment.  Please apply for both Summer and Fall/Spring. We recommend looking off-campus.
Review IONMGuide: containing several policies and procedures the IONM Program follows.
Review the website for the Office of Clinical Placement Coordination for more information about clinical requirements and FAQ.
Graduation
Our students must be in good academic standing and must satisfactorily complete all prerequisites for the degree on or before the last day of the conferral period. Though we hold only one annual graduate Commencement in May, degrees can be conferred three times each year in August, December, and May. For information about attending the Commencement ceremony, please visit the Commencement website.The application process runs through the UConn Student Administration System. We will use this information to complete your degree, to mail your diploma to you, and to communicate with you in the future. For more details regrading graduation please refer to the registrar.
Steps to Apply for Graduation:
*Students who qualify for degree conferral will receive their diplomas in the mail, normally, within four months following conferral.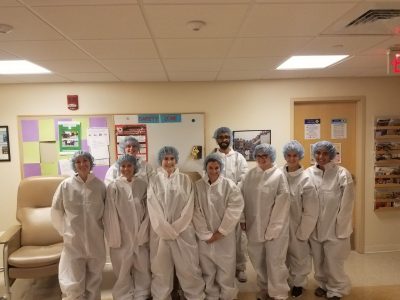 2020 Cohort